Pro wrestling's had many Middle Eastern heels starting with the fireball throwin' Original Sheik outta Detroit. The Original Sheik (Ed Farat) has a really great theme song in the video game, Showdown: Legends of Wrestling. The song does a great job mixing Middle Eastern music, surf and punk riffs. This sure ain't some "I'm a real American" bullshit.
Then there was The Iron Sheik (Hossein Khosrow Vaziri) - who in this late 70's AWA promo is being billed from
Beirut
Lebanon. (Also, Mean Gene with more hair!). The location of
Beirut
is used for multiple reasons: this is 1977, the Iranian hostage crisis hadn't yet occurred, thus Iran wasn't on the minds of the American public. However, Lebanon was in the middle of a
massive civil war involving multiple factions including the PLO.
Additionally, the Lebanese based and Iran based
Hezbollah
were also part of the war and terror tactics. Still, pro wrestling has to simplify things - therefore the Iron Sheik is a tough, very, very bad guy from a bad place that hates America. And after all, this the squared circle not the
New York Times
. On a similar tip, I wonder who came up with the locations for Soviet heels during the cold war. Russians were always from Moscow but never Leningrad or
Vladivostok (even if they were really from Minnesota).
Iron Sheik, like the entire 1980's & mid 90's roster of WWF had previously wrestled in different territories. Prior to coming over to WWF, 'ol Sheiky Baby grappled in Mid-South, Mid-Atlantic and Georgia to name but a few territories on his lengthy resume.
More recently WWE has
Muhammad Hassan
who's taken the role of "Arab-American as heel". Also, i
n the nearest promotion to me , Big Time Wrestling has former WWE wrestler & Middle Eastern bad guy,
Sean Davari
. Hassan's gimmick
comes off very authentic and ideally, could and should be turned into a face gimmick instead of the old "American hating, curly boot sporting Middle Easterner". (OK, maybe don't get rid of the curly boots as they're always cool). Whereas other
ethnicites
who had long been bad guys - Japanese and Russians have been able to work as as fan favorites the same doesn't hold true for grapplers of Middle Eastern background . Maybe promoters aren't ready to take that step (even in 2012?!) and show such complexities. So often even the unreal world of pro wrestling symbolically overlaps with real world geopolitics. But at the same time we can't expect promoters to shift from Soviet bad guys to say "a mad Finnish environmentalist". Oh wait.. they DID THAT? Da.

Anyway, I originally posted this on a failed attempt at trying to do a blog on politics and history called Chain Breaker. I figured I couldn't manage three different blogs much less continually do one on history and politics. However, I did just discover this odd angle from late 80's AWA that did the uh, "usually unusual" of having an Iranian and Iraqi team up during of the Iran-Iraq war. Yet this historically was somewhat on record as the Super Clash III card they're promoting here was in December of 1988 four months after the Iran-Iraq war. Though, in pro wrestling terms - 2 Middle Eastern baddies = great challenge against Sgt. Slaughter = more money.
Below is the link to my piece on Sheik
Adnan al-Kaissie
and his strange but true connection to Saddam Hussein.
http://thisischainbreaker.blogspot.com/2010/10/sheik-and-destroy.html
This connection is real and oddly ironic as he was the manager during
Sgt. Slaughter's heel run
as an Iraqi sympathizer during the build up to the first Gulf War in the Summer of 1990 through the Summer of 1991. I don't have the space to get into Slaughter's run as a heel but I can tell you because of this gimmick getting so much heat - he & WWF headquarters received death threats. The Wrestle Zone forum has further discussion.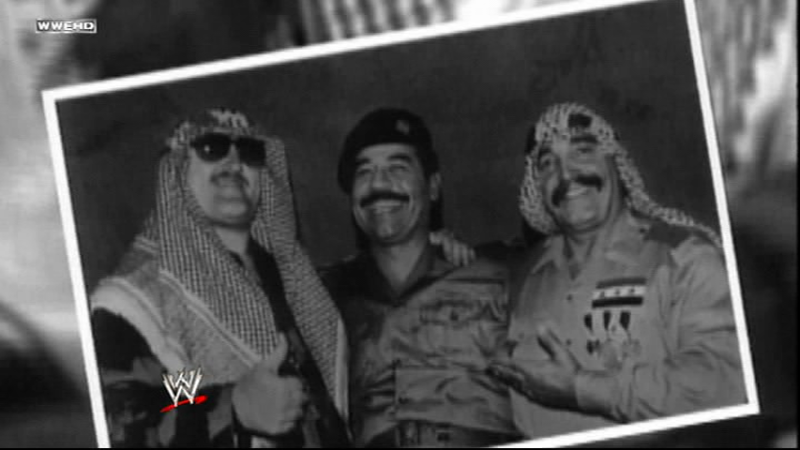 Left to right: Sgt. Slaughter, Sadaam (or Sadaam Double II?) and Gen. Adnan.
And now I just discovered is that the Iranian & Iraqi Sheiks alliance was formed once again in November 1991 WWF after Sgt. Slaughter broke with their alliance. The Sheiks presented a more militant (quite literally) image with the Iron Sheik sporting the Iraqi-Arabic name of Col. Mustafa and al-Kaissie taking the name Gen. Adnan and both men dressed in Iraqi general's gear 'ala Saddam Hussein.
And...finally this is one of the very few times that the "Mad Man from the Sudan" - Abdullah the Butcher appeared in the AWA. Sheik Adnan
al-Kaissie
even makes a reference to then-Sudanese leader Gaafar Nimeiry. Ah, the things I've learned from wrestling! Sure, it's likely that Nimeiry wasn't was actually would've been familiar with. Still, even watching old promos I still like to suspend disbelief and believe that Abdullah isn't actually from Montreal and owns a BBQ joint in Atlanta.
"Money talks and jealously walks." - SA a-K
Endnotes:
1) I'm using "Middle Eastern" more often than Arab since Iranians are not Arabs and their main language is Farsi not Arabic.
2)I'm spelling his name
Sheik Adnan
al-Kaissie as the "al" is the definite article and of refers to a place or origin. Don't ask for my expertise though, read this.